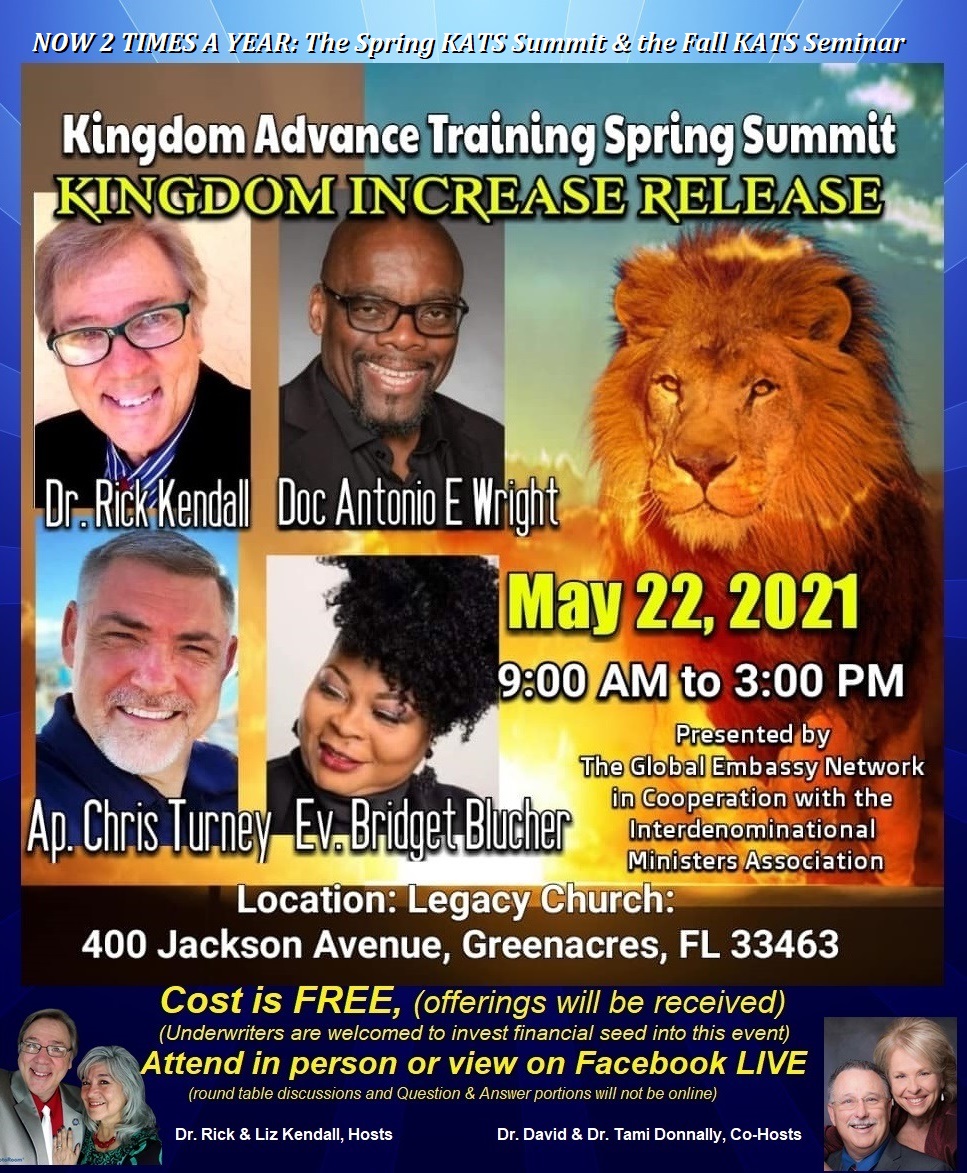 Dr. Rick is also one of the Teachers at Evangelical Bible College & Seminary
in Lake Worth, Florida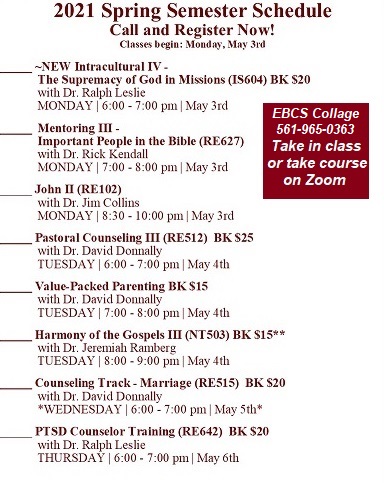 Dr. Rick's Itinerary.
To contact Dr. Rick Kendall to come speak at your church, conference, seminar or business meeting,
contact him at 772-320-9947 or 772-979-3409
Thursdays
:
Dr. Rick has begun a new 7 week Destiny Group Mentoring course entitled: "Wisdom The Principle Thing" at the facility of The Crossing Community Church, (in the Pavillion Bldg.) 5200 Oleander Ave. Ft. Pierce, Florida in cooperation with Kingdom Reign Ministries. Attend one or all the 7 week Thursday sessions in person or view on Facebook LIVE. You are invited to attend.


Mondays:
Dr. Rick will be teaching a new series at EBCS College in Lake Worth, Florida on the topic of Significant People in the Bible. Classes are on Mondays at 7:00pm EST. Attend in person or on Zoom.


May 22nd
Dr. Rick & Liz host the Spring Kingdom Advance Training SUMMIT in Lake Worth, Florida with Co-Hosts, Dr. David & Dr. Tami Donnally, along with a powerful speaking team! The Location is Legacy Church. More information is on the poster ad to the left of this text. Let us know if you plan to attend. Cost is FREE. Ph. 772-320-9947, or Email us at drrickkendall@outlook.com
Mondays at 9:00 AM EST
Coming in October: dates TBA
The Annual Kingdom Advance Training Seminar will be located at Kingdom Reign Ministries in Port St Lucie, Florida. Cost is FREE and offerings will be received. Check out the K.A.T.S. poster for more info
Many more speaking dates are being finalized so CHECK BACK OFTEN

Each Monday @ 9:00 AM EST...